Amp up your salad game with this recipe of Curry Coleslaw with Spicy Seeds! Never have I ever met a salad I didn't like. So I KNOW that you will love this latest salad recipe that you can add to the weekly menu. Creamy and spicy, this curry coleslaw is made with fresh coleslaw mix smothered in a curry yogurt dressing, topped with the most insanely delicious Spicy Sunflower and Pumpkin Seeds.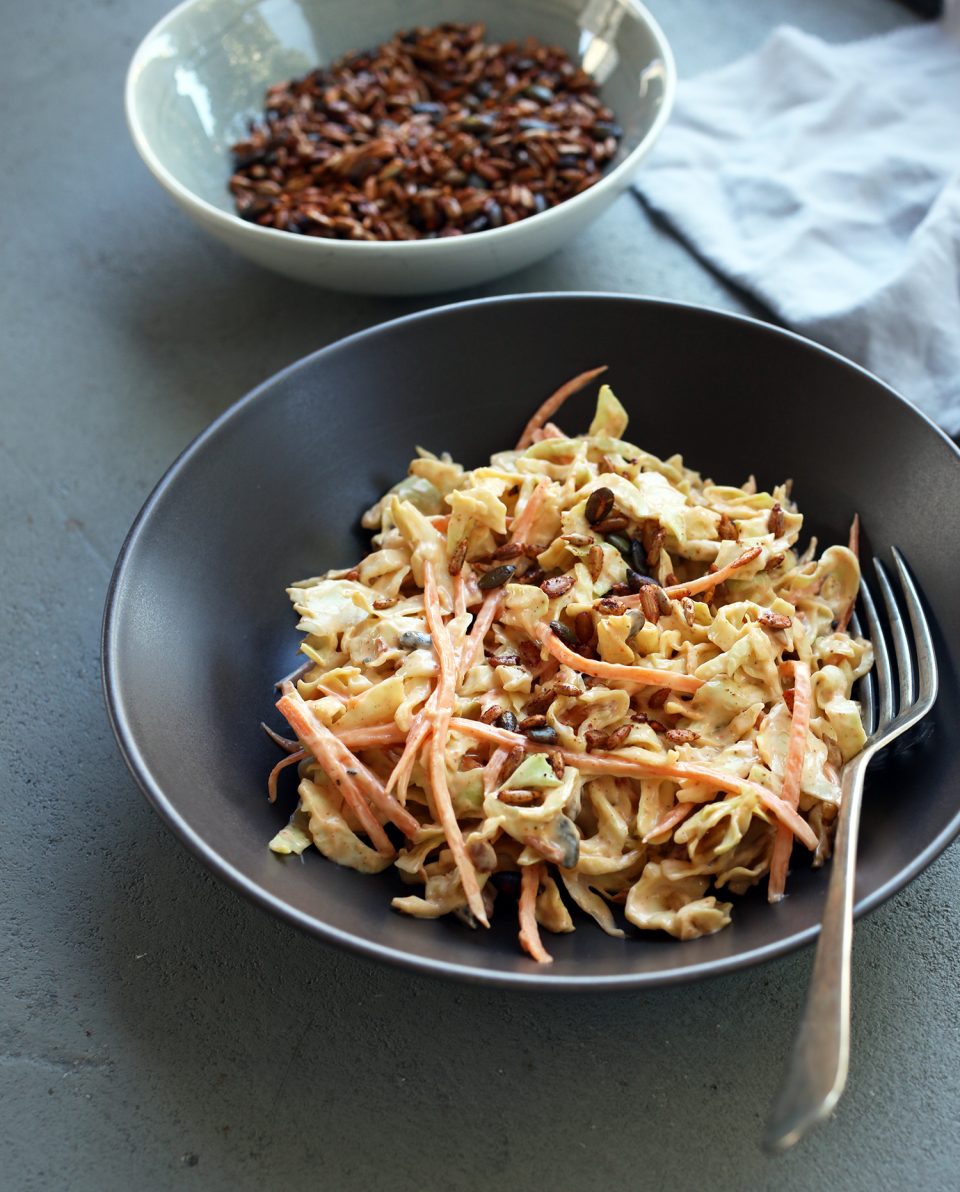 How To Make Curry Coleslaw
It is seriously easy to make a homemade coleslaw. You simply need a few ingredients to make a big batch of coleslaw. A classic coleslaw is made with a selection of fresh green or purple shredded cabbage, with either a vinaigrette or mayonnaise dressing. So easy and simple right?
Even though the classic version is great, I found my take on it a bit more flavourful with the addition of curry spices in my dressing and adding toasted spicy seeds on top. And, my recipe replaces mayonnaise with good old plain yogurt. Yes to clean eating!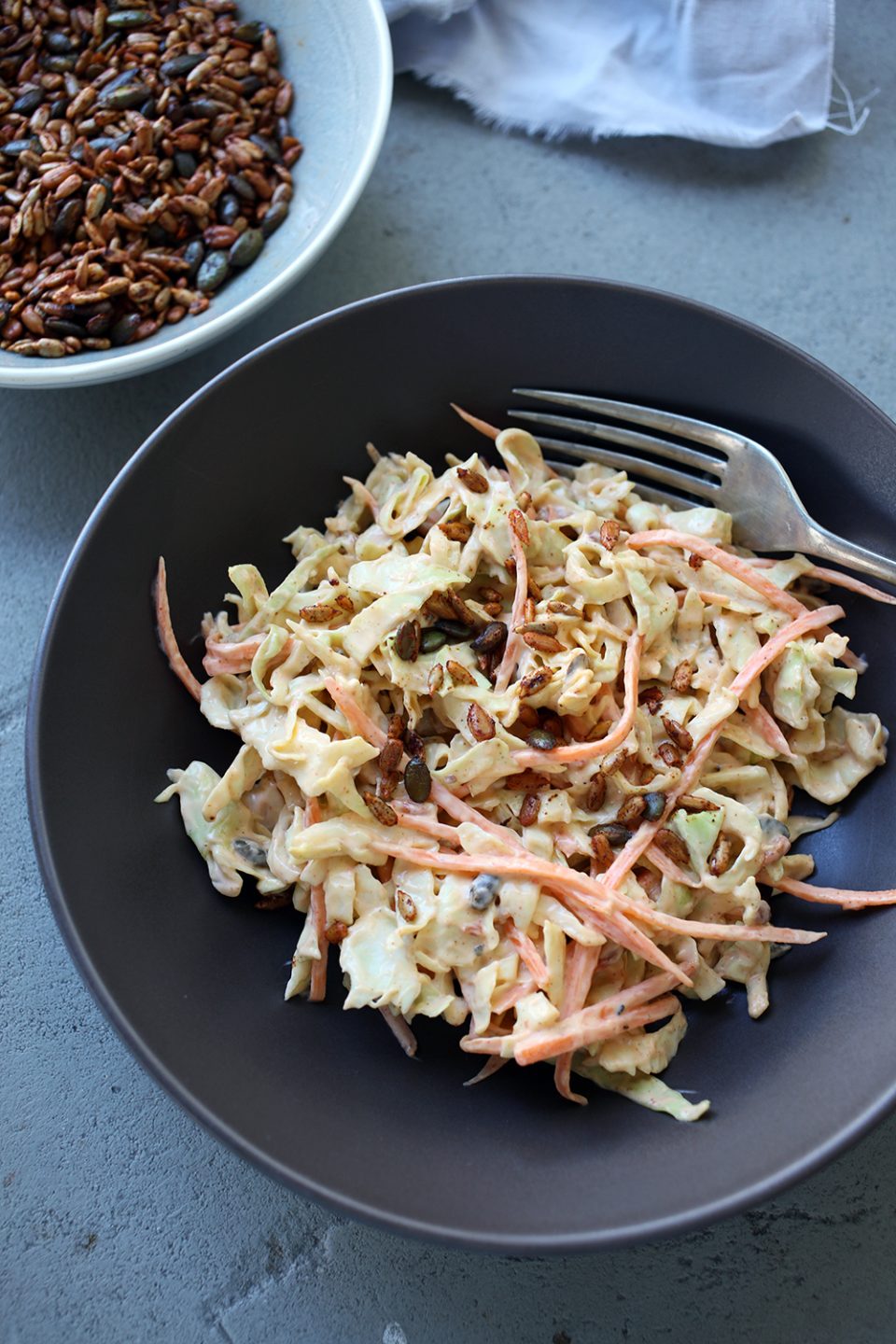 What is in a Coleslaw Mix?
A pre-prepared store bought coleslaw mix is great to use, because it takes all the fuss out of shredding cabbage at home and the dreaded cleanup. Simply rinse the contents and add your favorite dressing. It usually includes a mixture of shredded green and purple cabbage. And some bags might include shredded carrots and radishes.
However, in this recipe, I used carrots and green cabbage with my curry yogurt dressing. You can go wild and include finely chopped spring onion or even celery and chopped spinach for extra goodness.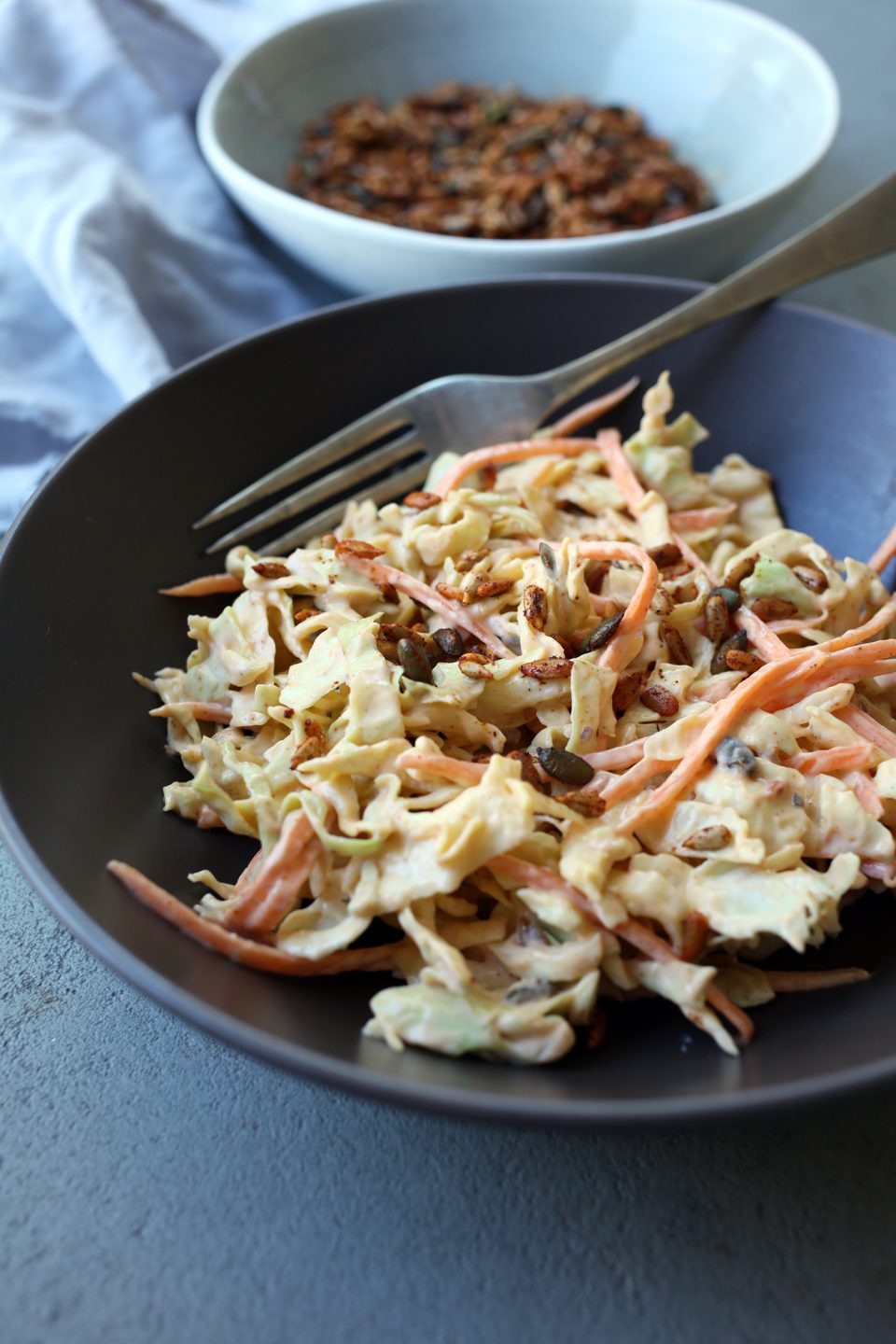 How to make a Yogurt Curry dressing for salad?
One of my favorite dressings for leafy green or shredded salads is this yogurt curry dressing. It is THE easiest recipe and only requires a few ingredients to make it sing. Simply mix it all together in a small bowl and whisk until combined. (This dressing is great for chicken mayo sandwiches as well.)
Ingredients for a Yogurt Curry Dressing:
Plain yogurt
Curry powder
Turmeric
English Mustard
Lemon Juice
Spicy Seeds as topping for Coleslaw and Salads
Let's not forget about the last and most important element for a killer salad. CRUNCH! You simply cannot build that perfect homemade salad without a little texture.
So, I decided to spice things up a bit by adding toasted sunflower and pumpkin seeds to my coleslaw.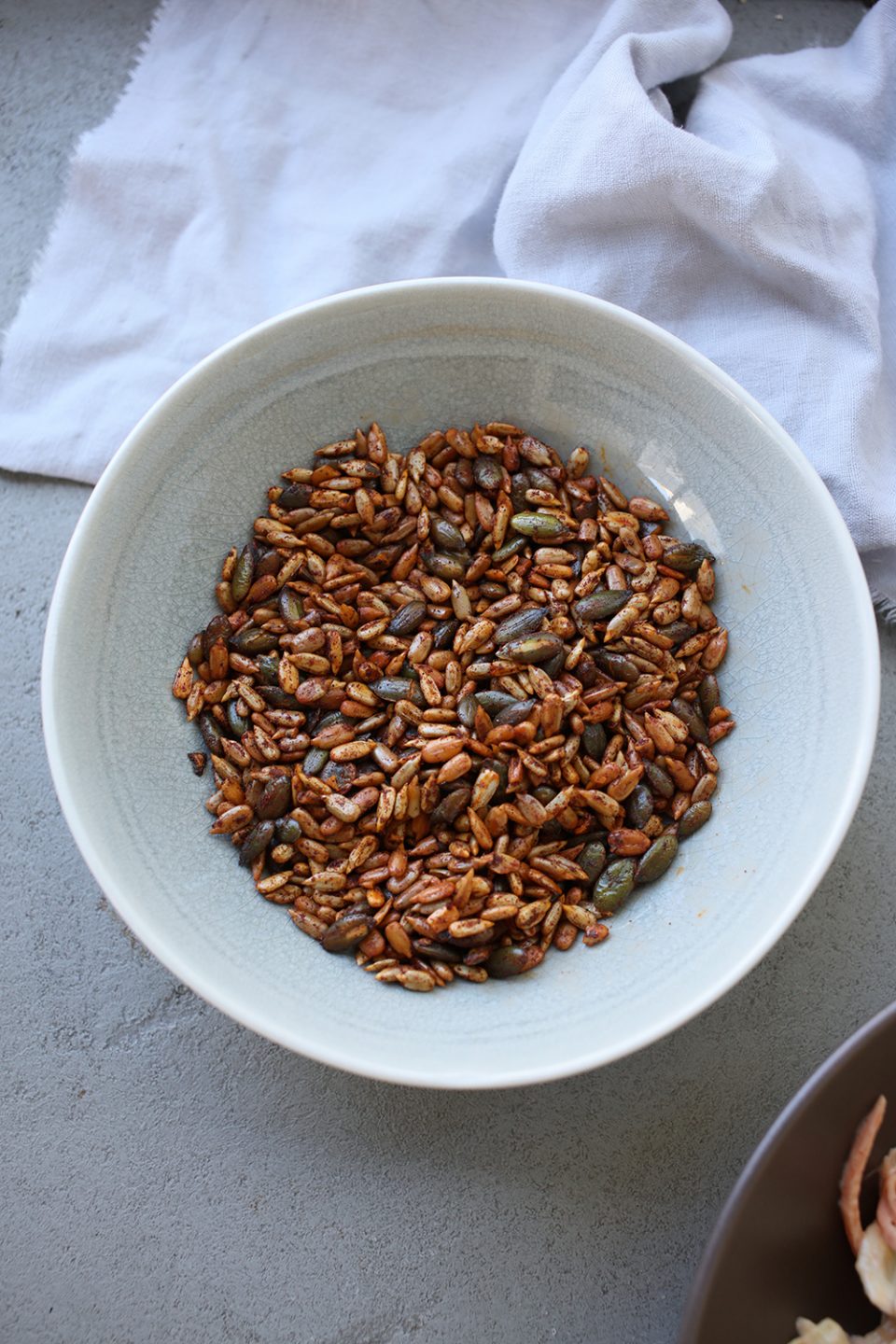 First off, carefully toast sunflower and pumpkin seeds in a non-stick pan until toasty and fragrant. Add a drizzle of olive oil and a pinch of chilli powder, smoked sweet paprika and cinnamon. Allow these spices to cover the seeds and remove to cool. Simply store these spicy seeds in an airtight container to add to your daily greens, or as a little pick-me-up snack in the afternoon.
So delicious!
More Easy Salad Recipes:
Salad Recipes You Need In Your Life
Cucumber, Olive and Pesto Salad
Celery, Tomato and Spinach Chopped Salad with Basil Vinaigrette
| | |
| --- | --- |
| | |
In a large salad bowl, combine the shredded cabbage and julienned carrots. Set aside.

Next in a small mixing bowl, combine the ingredients for the dressing by mixing together the yogurt, spices, mustard and lemon. Season to taste.

To make the spicy roasted seeds, simply add the sunflower and pumpkin seeds to a non stick pan on medium to high heat. Carefully allow the seeds to roast/toast in the pan.

Add the olive oil and spices and swirl the seeds around in the pan to let the oil and spices cover the seeds. Allow to cool before transferring to an airtight container.

To assemble the salad simply add the curry yogurt dressing and mix until combined. You can add more yogurt if you want a creamier dressing.

Top with spicy, toasted seeds and enjoy!
This coleslaw salad can last for up to 4 days in the fridge.