Cucumber, Olive and Pesto Salad, a fresh and vibrant marinated salad! Fresh cucumber slices marinated in a basil pesto and crushed black olive vinaigrette, LET'S EAT!
Remember you can jump to the recipe by clicking the cutlery icon on the top right on your screen!
This salad is not only super delicious and healthy, it is also a marinated salad you can keep in the fridge. Perfect for a quick vegan side salad or veggie bowl!
How To Make a Marinated Cucumber, Olive and Pesto Fridge Salad
This cucumber salad is as easy as punch! No jokes! You only need a few fresh ingredients to make this salad sing and pay for it's dinner…
Ingredients for Cucumber, Olive and Pesto Salad:
Cucumber
Black Olives
Basil Pesto
Red Wine Vinegar
Olive oil and seasoning.
Spring Onion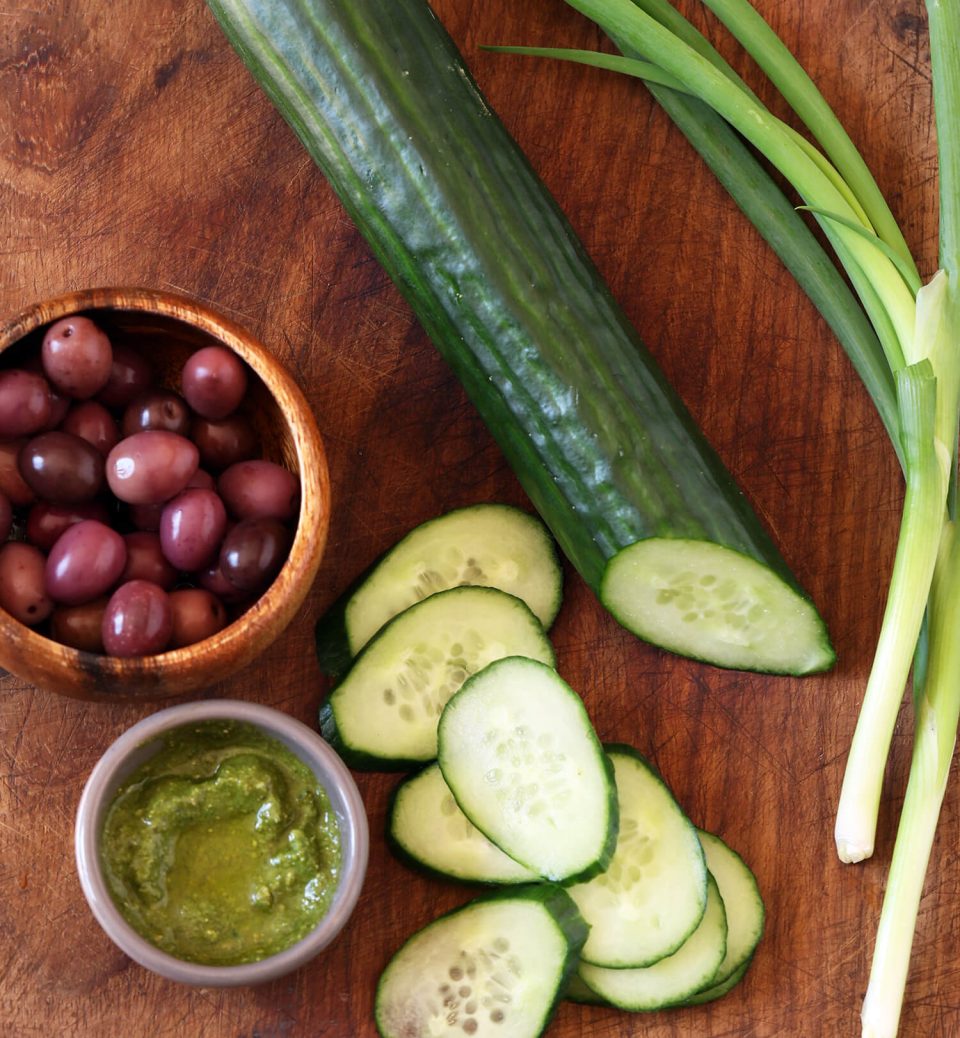 First off, slice the cucumber in slices, or you can create ribbons of cucumber with your veggie peeler. Next, make the salad marinade by combining crushed black olives, pesto, vinegar and olive oil.
Place the cucumbers in the marinade and make sure they are covered well. Finally, season with salt and black pepper and sprinkle a generous amount of chopped spring onion.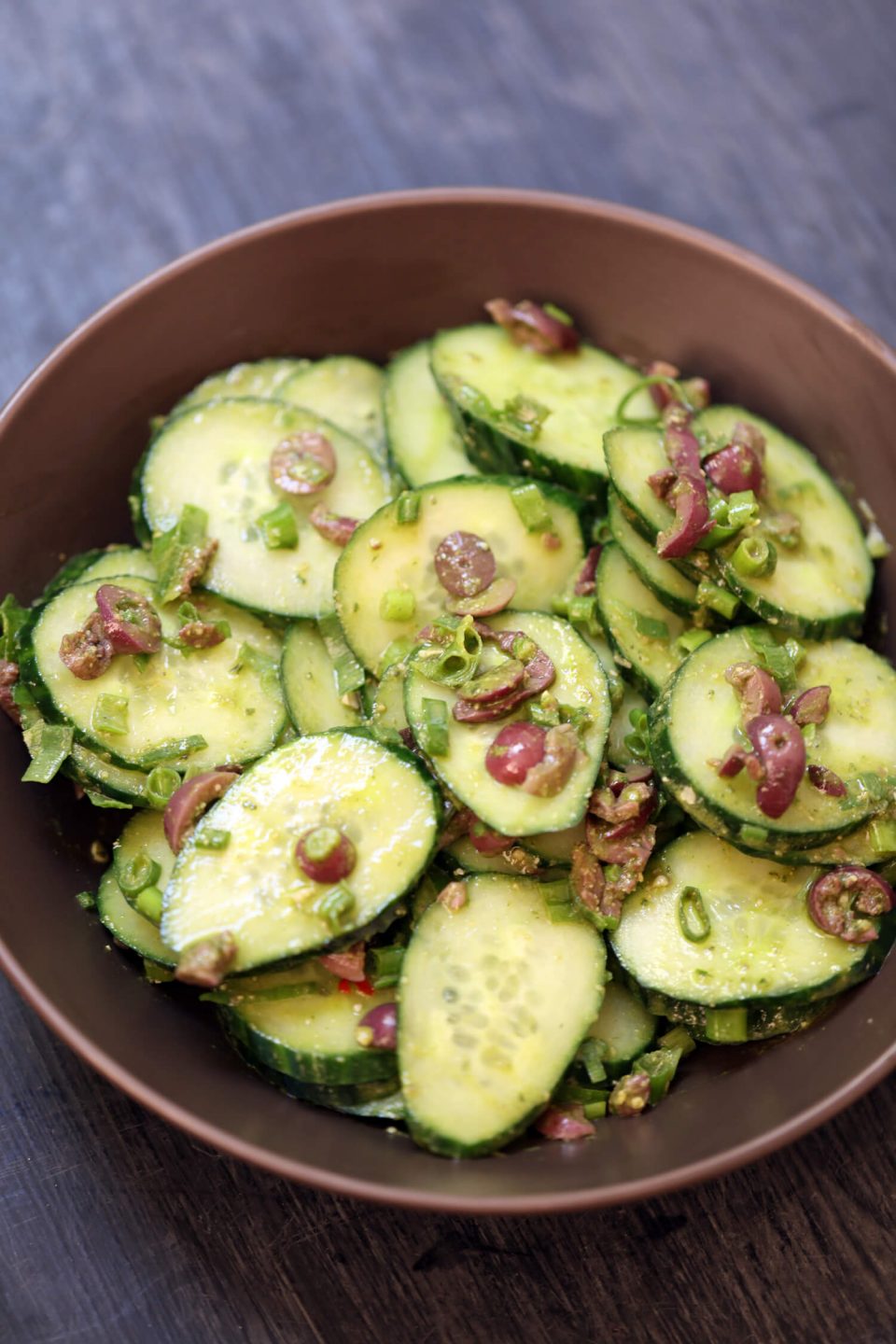 How Long Can This Salad Last In The Fridge
Usually, when stored in an airtight container, this cucumber and olive salad will keep for up to 7 days in the fridge. That is great news since we all know how hectic life can get. Therefore this is a great make-ahead salad you can whip together in no time and keep stacked ready to dish in the fridge.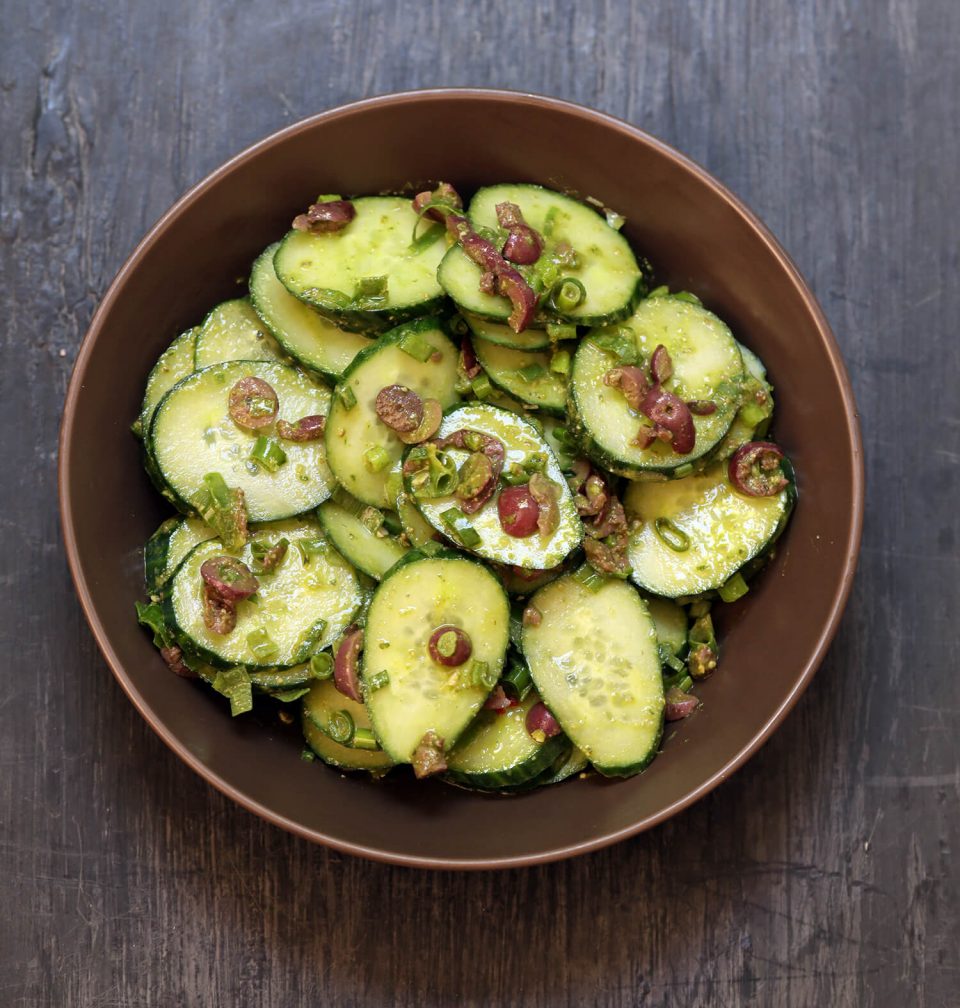 More Make Ahead Salad Recipes Perfect To Keep In The Fridge:
Cucumber, Corn and Sprout Salad with a Thai Dressing
Celery, Tomato and Spinach Chopped Salad with Basil Vinaigrette
Kohlrabi, Carrot and Lettuce Slaw
| | |
| --- | --- |
| | |
Wash and slice the cucumber into thin slices. Set aside.

Make the marinade by placing the olives, pesto, vinegar, oil, salt and black pepper in a pestle and mortar. Grind and crush the olives into the oil.

Cover the cucumbers with the marinade and mix well. Add the spring onion, more seasoning if needed and place in fridge in an airtight container.