This delicious Passion Fruit, Yogurt and Nutty Granola Bowl has been my saving grace each and every morning for the past couple of weeks. Thank the gods for weekends…and long weekends.
It must certainly be the easiest and quickest way to get a punch of goodness into your body first thing in the morning.
Not only that, when you are one of those early bird peeps with hectic deadlines and work commitments, trying frantically to get the kids at school on time and worrying about being stuck in traffic, this quick and easy breakfast is all you need. You can just ditch that bowl of cereal, for reals.
Sometimes when I get up so early I rarely ever feel hungry enough for a big egg and bacon fry up. We normally end up having eggs on toast or a quick omelette. This delicious Savoury Scrambled Egg recipe is also great as a healthy breakfast.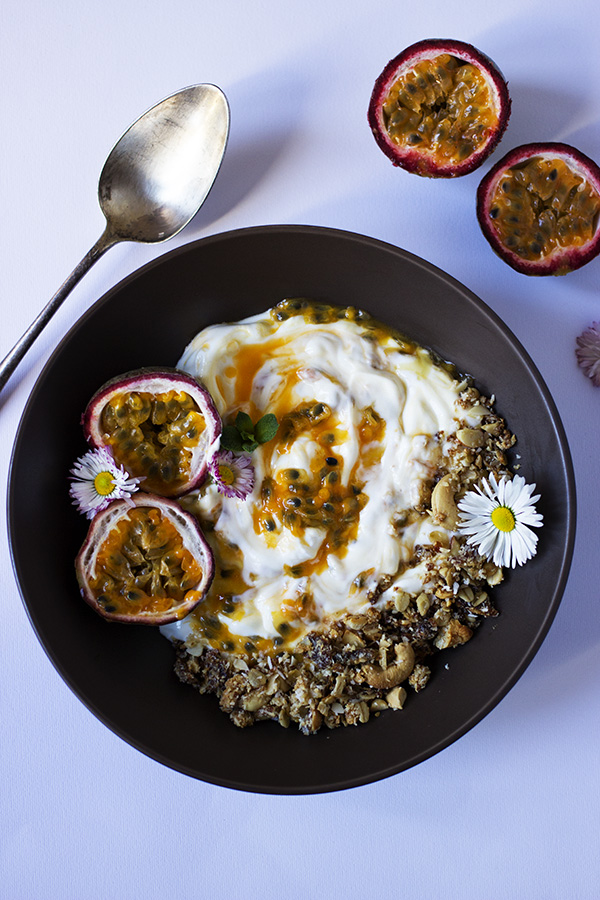 However, when time is of the essence, I (try to) keep it simple with natural, thick yogurt, fresh fruit, honey and a little granola. The crunch is what it's all about for me…
Any fresh fruit that's available on my kitchen counter gets thrown in, normally, with loads of honey, of course. I only recently rediscovered my love for nutty, crunchy granola. My version has chopped dates, coconut, mixed nuts and rolled oats. I love the freshness and zest that the passion fruit delivers, but you can totally opt for other fruits.
Even though a breakfast bowl like this doesn't require much skill or knowledge, I mean, is it even a recipe? I still would love to share what I enjoy to eat with you. Let me know what you think and I would LOVE to hear your suggestions. What's for breakfast?
| | |
| --- | --- |
| | |
Divide the yogurt into two bowls and top with fresh passion fruits and honey.

On a baking tray, arrange the dates, nuts, coconut, oats and cinnamon.

Set the oven on grill and carefully toast the granola for a few minutes.

Leave the granola to cool and scoop a few tablespoons over the yogurt. Store leftover granola in the refrigerator.