This easy recipe for Carrot & Banana Muffins simply has to be included in your recipe collection. It is a quick snack to whip up when the kiddies seem to be getting on your nerves this school holiday. And they can help with the baking too!
This recipe delivers a lovely fluffy and sweet muffin that can be enjoyed with or without the icing. It is great to make batches of these, freeze them in an airtight container and spoil the family with "magical muffins from the freezer"!
K, so you know I don't think myself as a "Master Baker" right? I guess you figured that out already since I can only bake stuff in muffin pans? Yeah…
Preheat the oven to 180 degrees Celsius and line a muffin pan with 12 muffin cups – this recipe is enough for 24 muffins if you don't fill them up to the rim like I did…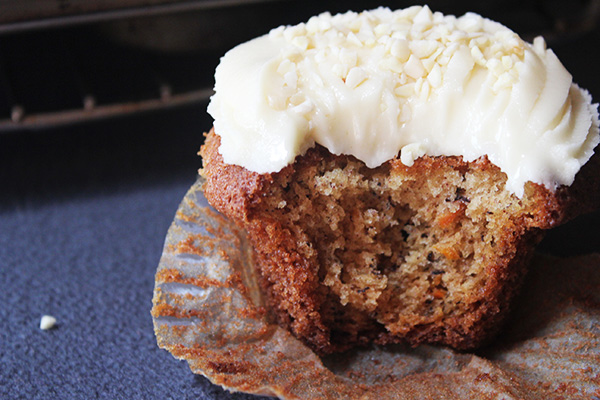 It is a great recipe to use if you want to bake a full on layered Carrot Cake. Yes, I know, the time shall come for me to try it, I assure you. For now I will console myself with the fact that muffins are king. Enjoy!
| | |
| --- | --- |
| | |
Beat the oil, eggs, sugar and essence with electric mixer until fluffy.

Add the carrots and banana and mix with wooden spoon until incorporated.

Sift the flour, salt, baking soda and spices. Add to the egg mixture and mix until incorporated.

Add spoonsful of batter to your muffin cups, filling them ½ to ¾ full.

Bake for 20 minutes until brown and tester comes out clean.

Combine icing sugar with a little lemon juice at a time to achieve the correct consistency. Pipe or smear cooled down muffins with icing and sprinkle with nuts.