A few weeks ago I posted this recipe of Pesto Chicken with Brown Mushrooms on Zucchini Noodles, and I rambled on about how versatile and hearty mushrooms are.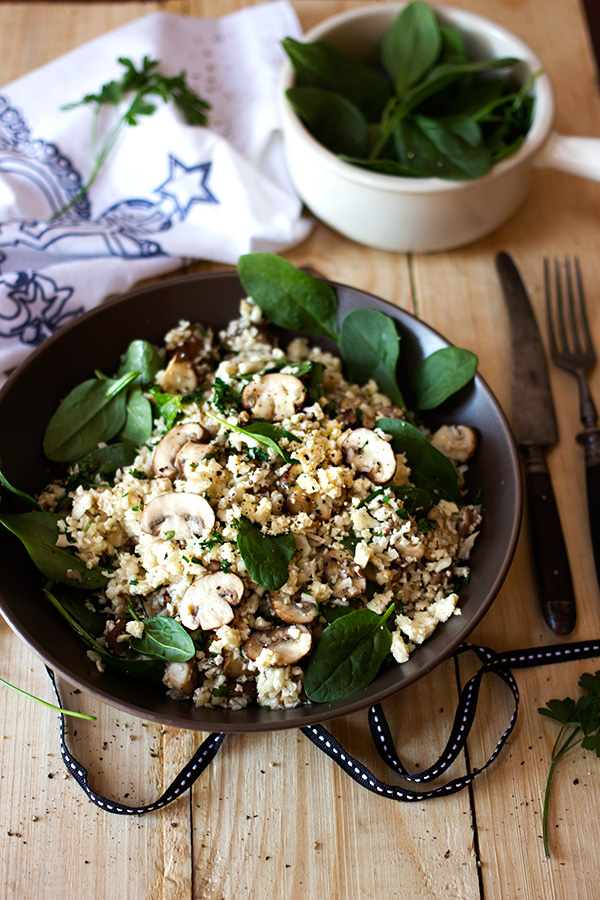 Today I am continuing on that path and by using the blendability approach to cooking, I was left with this amazing low carb, vegetarian and vegan friendly Mushroom and Spinach Cauliflower Pilau.
Due to its unique nutrient profile, mushrooms provide natural glutamates, an amino acid that's found in all foods with protein. Pretty nutritious, right? Since bulking up 50/50 with mushrooms combined into meals, you achieve decreased intake of calories, fat and saturated fats and even sodium intake reduction of 25% .
It also delivers a savoury, earthy taste – ensuring a flavoursome meal that provides important nutrients like Vitamin D and B, antioxidants and potassium to maintain the immune system and provide a boost of energy.
So for my second blendability recipe I decided to use Portabellini mushrooms, sauteed with a little garlic, butter and chilli, then combined with grated cauliflower and baby spinach and topped off with fresh chopped parsley. As easy as that.
Combining the mushrooms with these fresh ingredients, a simple dish is transformed into a healthy and wholesome meal.
By adding mushrooms to a meal you really are bringing another serving of vegetables to the table, you know. It also adds bulk and volume – generate more servings and stretch recipes into more portions while enhancing the flavour and ensuring 'mmmmm's all around the dinner table. That's it guys, remember to #Jointheblendtrend on social media with your lovely meals and aim for health this week!
*This post was sponsored by Mushrooms SA, images and recipe my own.
| | |
| --- | --- |
| | |
In a saucepan, heat the butter and saute the mushrooms, garlic and chilli until the mushrooms loose the moisture. Remove from heat.

Sauté the grated cauliflower for a few minutes in melted butter until heated.

In a large mixing bowl combine the grated cauliflower with the baby spinach and the mushrooms, add a squeeze of lemon juice and finish it off with the parsley.