Two words come to mind when I think of this delicious recipe of Homemade Sweet Chilli jam – HOLY HEAVENS!
Yes, that's right, this recipe turned out absolutely divine and just about tops my favorite jam recipe of ALL TIME! Deliciously spicy and sweet, this homemade sweet chilli jam is what all cheese boards, sandwiches and toast deserves!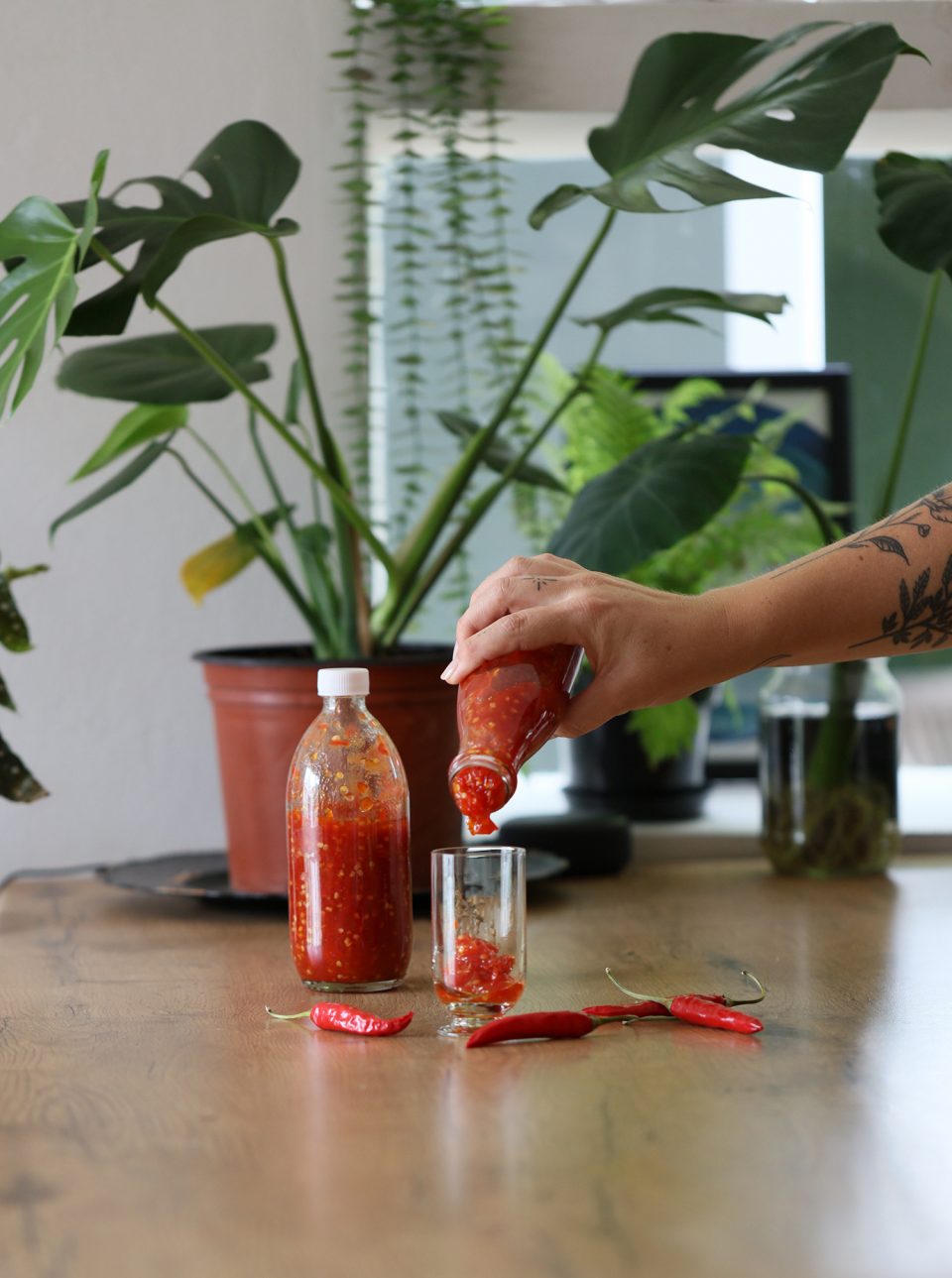 This slow cooked, homemade jam consists of fresh red chillies, red pepper, ginger, tomatoes, sugar and red wine vinegar with a touch of lemon. SO GOOD!
What are the ingredients for Sweet Chilli Jam?
For this easy, homemade sweet chilli and ginger jam you will need a few fresh and pantry ingredients:
Fresh red chillies
Red pepper
Cherry tomatoes
Ginger
Sugar
Red wine vinegar
Lemon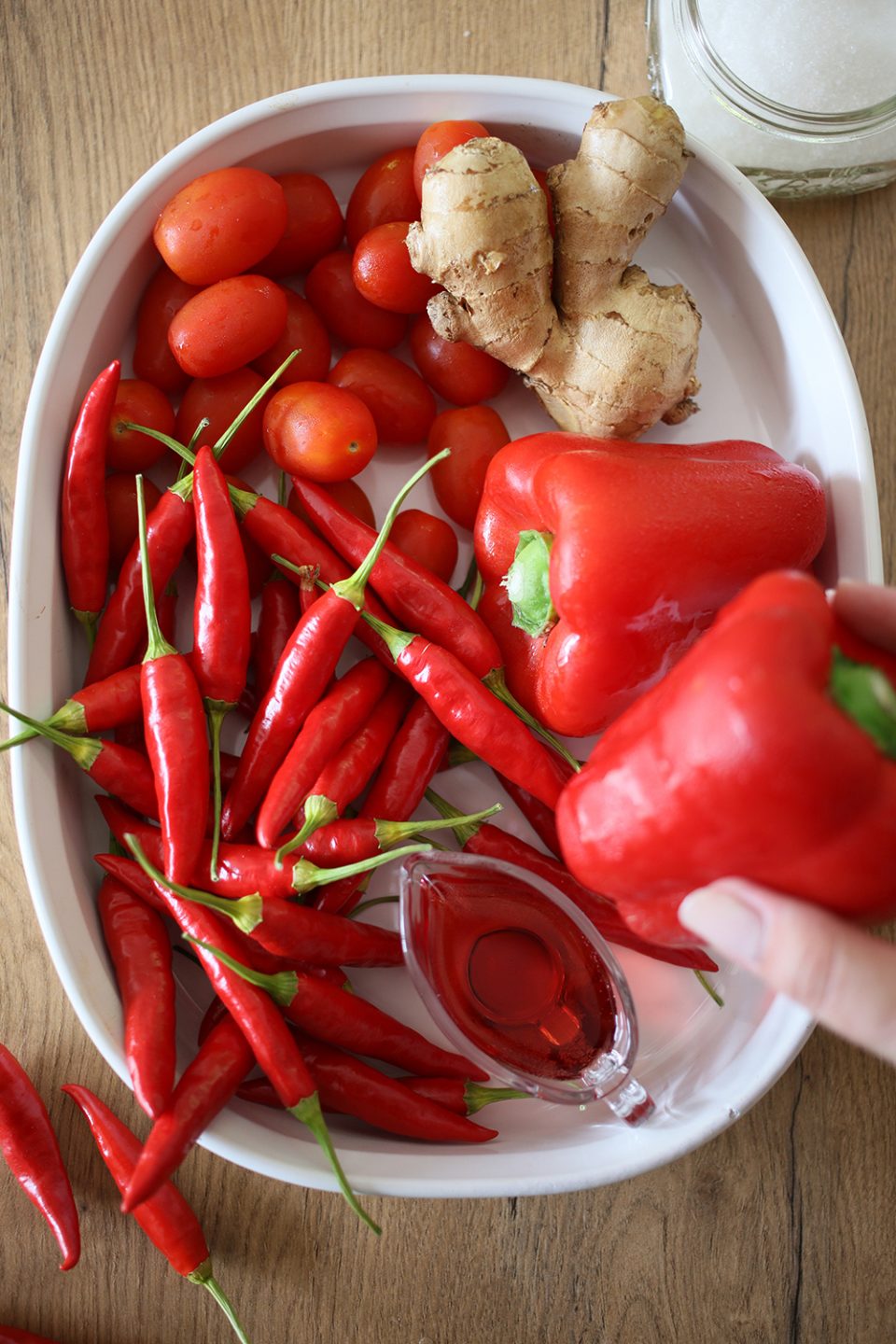 How do you make the best Homemade Sweet Chilli Jam?
The best homemade sweet chilli jam in my humble opinion is THIS recipe. I have been wanting to create a recipe that features these beautifully homegrown red chillies for so long. So here you have it – the perfect recipe for that fresh produce harvest.
First off, simply chop all the ingredients fine. Be careful when you work with fresh chilli, I recommend using latex gloves when you remove the seeds from the chilli. If you want the jam to be more spicy, simply leave some seeds intact.
Then add the ingredients into a large, wide saucepan and add water to bring to a boil. Once the mixture is boiling it will create an orange-red foam on the surface that needs to be skimmed off the top once or twice. Simply use a dessert spoon for that.
And after that, you simmer the jam slowly until it reaches the perfect jammy consistency. Leave to cool properly before transferring it to a clean, sterilised glass jar and into the fridge.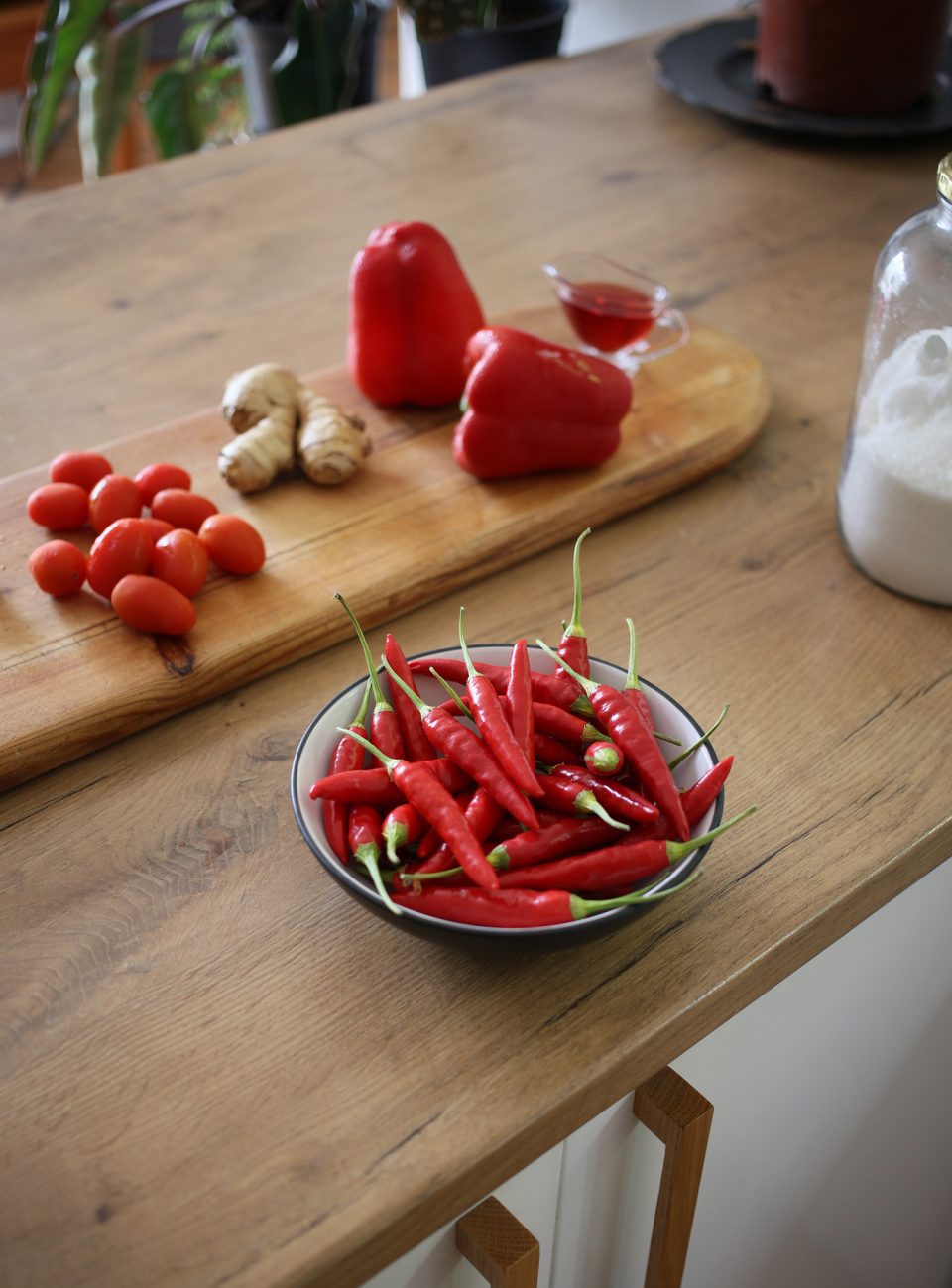 Do I need to add thickener to my Sweet Chilli Jam?
This homemade recipe does not require any thickeners. Because the sugar has done most of the work here, as we allowed it to slow cook and become more caramelised, your jam should be the perfect sticky consistency. Other ingredients like pectin or chia seeds can be used if you do not want to use as much sugar, to help thicken the jam.
How long does Homemade Sweet Chilli Jam last?
Stored in a sterilized, clean glass jar, your jam should last for up to two weeks kept in the fridge. Make sure your jam has been cooled off properly before transferring it to your glass jar. Also, make sure your jar has a sealable lid.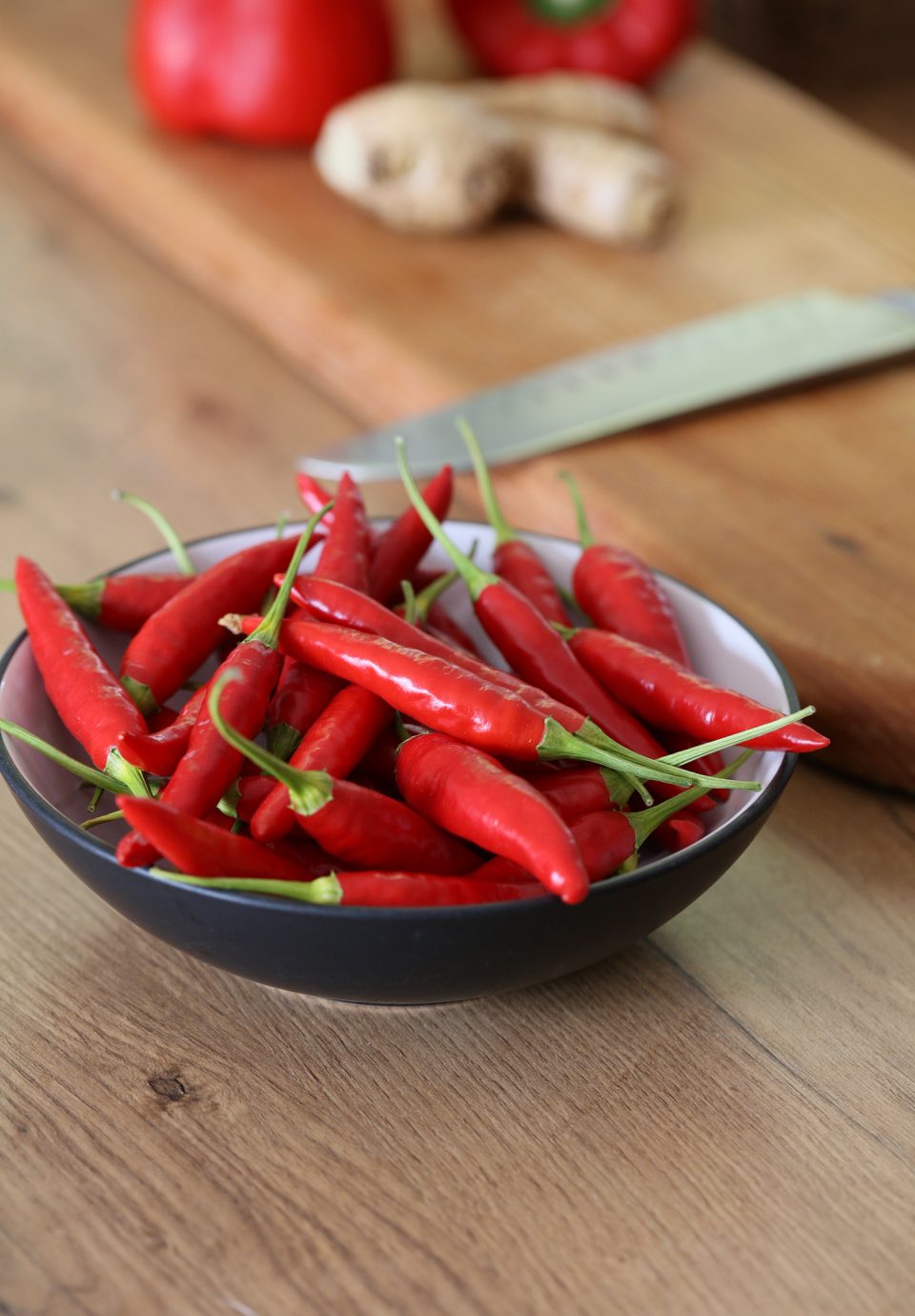 What can I pair Sweet Chilli Jam with?
Now for the best part! What can you NOT pair with this insanely good chilli jam, is the question!
This homemade sweet chilli jam is best served and used with:
All and any toast, including crostini and bruschetta (toasted cheese just got an upgrade!)
Eggs (if you haven't noticed, eggs and chilli is the bomb.)
Cheese and charcuterie snack boards with cold meats, crackers and biscuits.
As a pizza topping.
Marinade for meats and veggies.
| | |
| --- | --- |
| | |
Chop the chillies, peppers and tomatoes fine using a food processor.

Peel and grate the ginger.

Place the chopped chillies, peppers, tomatoes, ginger, sugar, red wine vinegar and lemon zest in a wide saucepan.

Add water and bring to a boil. Cook at high heat for 10 - 15 minutes, regularly checking to skim the "foam" from the surface of the jam.

Reduce the heat to a simmer and allow the jam to slow cook for the next 45 minutes, until reduced, sticky and jammy. If you run a spoon through the jam, and it leaves a trail - it's ready.

Leave to cool and transfer to a glass jar, with sealed lid. Refrigerate for up to two weeks.